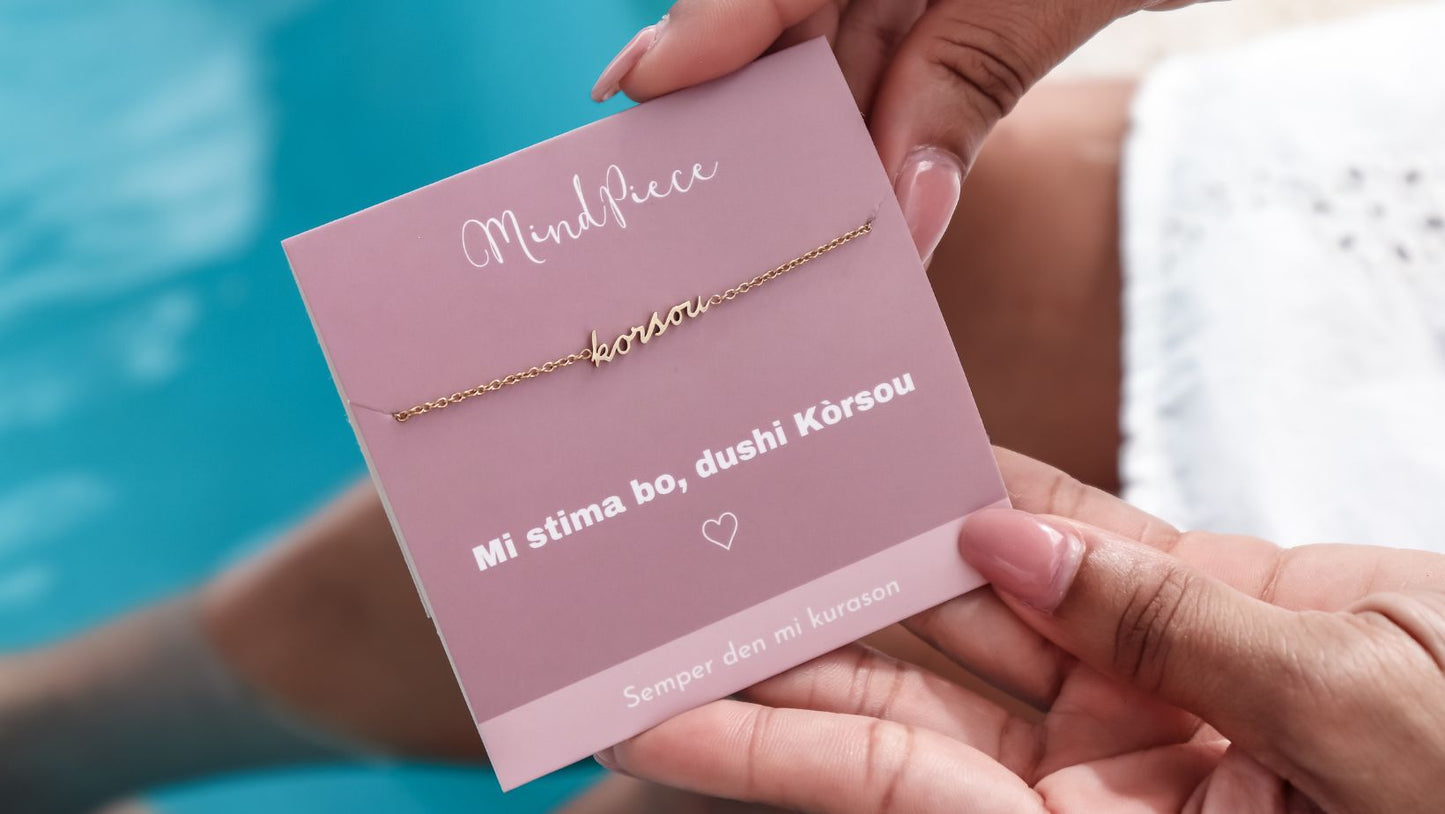 An original souvenir from Curaçao
Hard to find the perfect souvenir in Curaçao? Jewelry stands out as a the ideal souvenir as tells the story of your travels. And it is the perfect cute gift for your family or friends at home. What other reasons are there for jewelry as the perfect souvenir from Curaçao?
Captures the essence of a journey in a tangible form 
Jewelry pieces can be worn as a token of your memories. You will be reminded about your adventures and these special moments every day. One look at your Curaçao bracelet and your mind takes you back to the unforgettable time you spent in the destination. Maybe other people will ask about your Kòrsou necklace and would love to hear the story.
A practical souvenir for daily use
Unlike some souvenirs that might end up somewhere in your closet, jewelry is practical and functional souvenir. You can wear it daily, but you could also choose to wear it for special occasions. Don't you already have a shelf full of souvenirs collecting dust? Be sure to purchase something you can wear.
Cultural Connection:
It can feel as if you are more connected the island when you choose a jewelry piece that represents Curaçao. Therefore, these items from our 'island collection' are very popular among tourists.
Also, YDK living abroad love these items! YDK? That stands for Yu di Kòrsou which means 'child of Curaçao's, so people born in Curaçao. And we have a special YDK necklace devoted to them.
The items in our island function as a farewell gift for youngsters leaving the island to study abroad. Or when visiting family members living abroad for a long period of time.
I have heard people bringing the items from our island collection to Colombia, New York, The Netherlands, Venezuela, Jamaica. And so many more!
The most popular items of our 'island collection':
Why don't you check it for yourself? We have gathered all our Curaçao items on the Island Collection Page. Check all of the island related items now.
Lightweighted: easy to travel with
A very practical reason. Jewelry is very easy to travel with as it is light and small. You can start wearing it right away, no extra weight in your bagage. Or you can travel with it as usually it is wrapped in a small box or gift enveloped. The perfect gift for the loved ones back home.
Timeleess elegance
Jewelry, online many other souvenirs, has a timeless quality. Well, if you buy stainless steel or a precious metal such as solid gold. It doesn't fade, break, or become outdated if you buy a simple minimalistic piece. 
 How to get your Curacao jewelry items?
We are a webshop. You can purchase the jewelry online and we deliver. The delivery days + times are mentioned here. 
Jewel Junkie is also represented, with our MindPiece brand, in several shops on the island. Please send us a WhatsApp message (+599 9 66 66 305) and we can point you in the right direction.